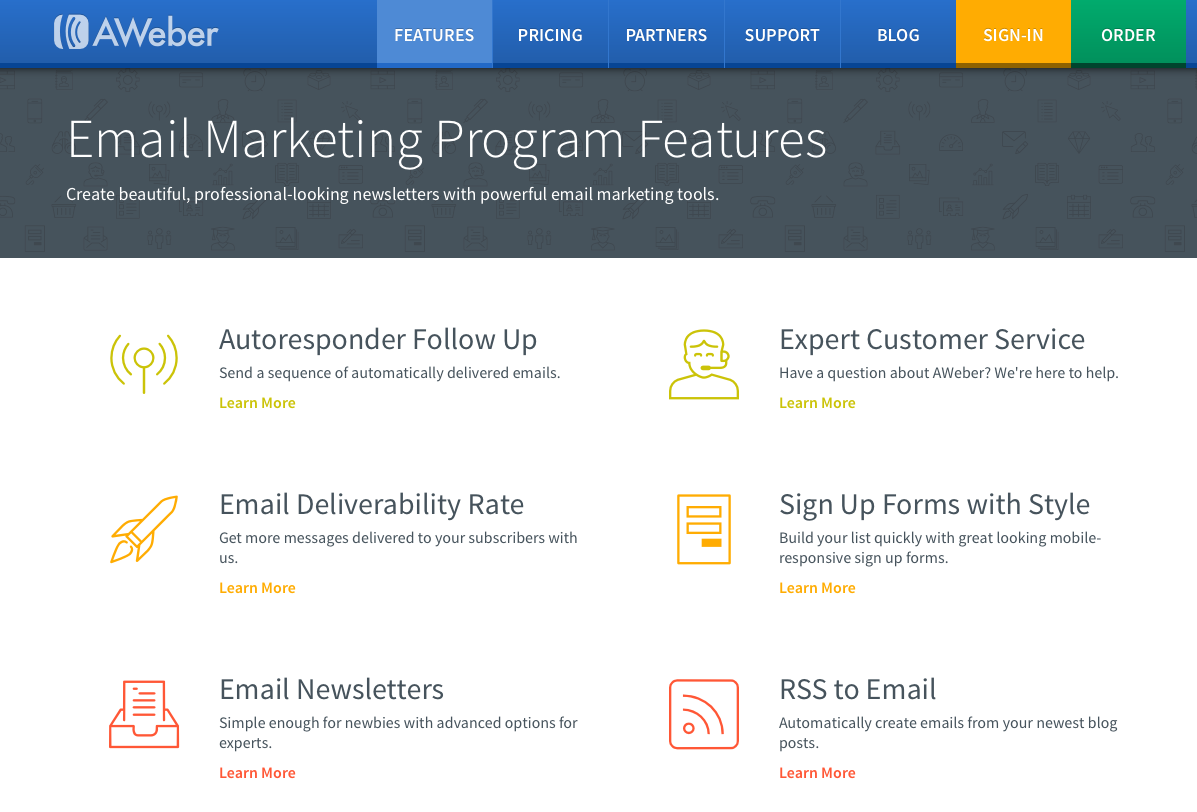 AWeber has been around since 1998, and is used by many of my friends in the internet marketing space.
Aweber was one of the very first auto responder systems available, and has grown in popularity over the years. They use a "double opt in" policy for all accounts. Meaning: Your subscribers must "confirm" they requested to be on your list.
Double opt in is very important for 2 reasons: 1) Spam complain reduction — subscribers can't be added without requesting AND confirming, thus, "spam traps" cannot be added to your list, without a confirmation. 2) Subscriber Engagement — if a subscriber goes through the trouble of confirming their request, you can be assured that they REALLY want to hear from you (it was not an impulse decision that they'll forget about), thus, your sales process is more likely to convert.
The service is very inexpensive and very simple to use. At $19.95 per month, you really can't go wrong with this solution. (NOTE: They offer a FREE 30 day trial.)
The setup process uses an easy-to-understand, step-by-step wizard, and you can (a) create a list, (b) create a webform, (c) create a confirmation message, (d) create a "thanks for confirming subscription" message, and (e) create your follow up email messages in minutes. It's very easy, and straight-forward.
Aweber has been known for years as a great AutoResponder service, but over the years, this service has grown to a full-fledged, full-featured email marketing solution –and I understand that more features are on their way.
In summary: Aweber is a GREAT Autoresponder solution, and when you need more features that are not available in simple "autoresponder-only" services, then you won't have to move to another service provider: simply begin using the other included features found in your Aweber account.
The "Gold Standard", Original AutoResponder
Aweber is known for its deliverability, stability and ease of use. Continually updated and upgraded, this "grand daddy" of Autoresponder Software is our favorite.